Unusual activities at Nendaz
The tourist office of Nendaz offers all year round activities for travelers of all ages. With its "Family Destination" label, Nendaz guarantees a very warm welcome and many activities to children and their parents. Unusual activities at Nendaz are planned for dream getaways with family or friends. In summer, Nendaz attracts nature lovers, whether they travel the estate on foot, by mountain bike or by gondola!
In total, 250 km of hiking are proposed between mountain pastures, pierriers, high mountains and old village: enough to vary the pleasures! Several ski lifts run in the summer to give as many people as possible the chance to reach the top and admire sumptuous viewpoints. Example of a magnificent panorama: from the top of Mont-Fort which stands at 3,300 meters above sea level.
Life on the alpine pasture
Among all the unusual activities at Nendaz, one stands out from the others: it is the meeting with the stars who will reveal the secrets of the manufacture of the famous raclette cheese.
In summer, once a week, you have the opportunity to go to the Balavaux alpine pasture to discover the stages of making raclette cheese and the daily life of the cheesemaker and cowherds.
A visit to the cheese cellar and a short tour to observe the cows of the Hérens breed in their pasture are also organized. The whole is followed by a breakfast at the balavaux hut with tasting of the local cheese.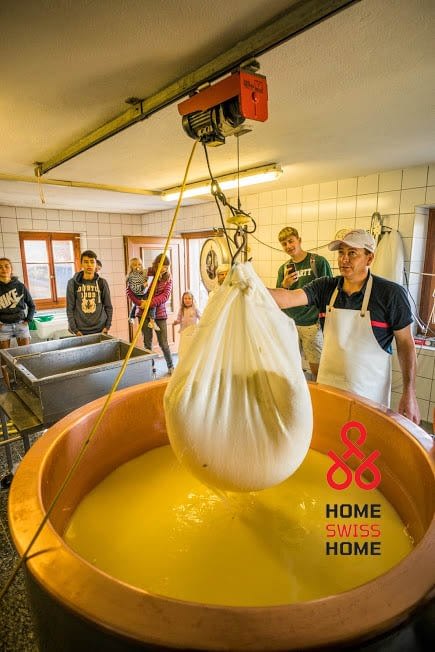 Where to sleep at Nendaz?
You can find a large choice of accommodation on our online booking reservation system: https://www.homeswisshome.ch/action/accommodation/
You can been updated thanks to our daily posts on our insta: https://www.instagram.com/homeswisshome_locations/
We are partner with the tourist office of Nendaz. Thats why we are aware of there full program. Please ask us for more details if you are interested in more Unusual activities at Nendaz.
Tags: #nendaz #summertime #louer un chalet #hiking #archery #horseriding #homeswisshome #mountainholidays #familyholidays #vacancesensuisse #weekendensuisse #aplacetostay #hotel #valais #raclette #fromageraclette #vaches #paturage