The Niesenbahn
The Niesenbahn in the canton of Bern is the longest and highest funiculars in the world.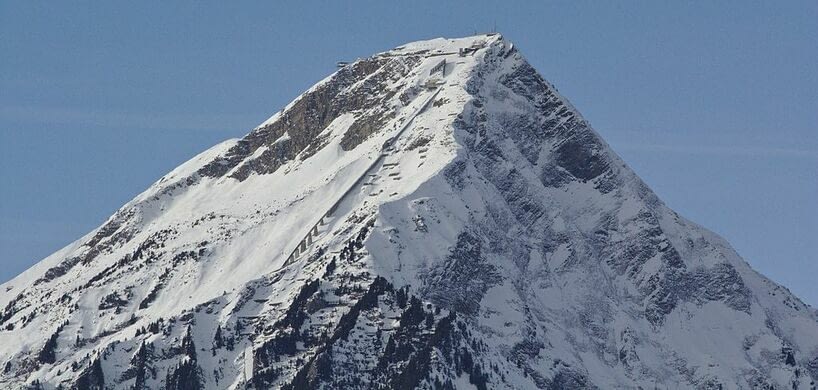 This funicular connects a lower terminus, in the village of Mülenen and adjacent to Mülenen station on the Lötschberg railway line, with an upper terminus at the top of Niesen.
The track total length of 3,500 meters (11,483 feet) and completing an overall elevation change of 1,642 meters (5,387 feet), the Niesenbahn is — per static as well as subjective visual analysis — one of the world's most astounding and extreme funicular trains. This engineering marvel is rendered even more incredible by the fact its construction predates cranes and helicopters.
The Niesenbahn's construction:
Construction on the Niesenbahn started in 1906. The line officially opened during the year 1910. Composed of two sections separated by an intermediate station, the Niesenbahn carries passengers from the Mülenen train station to the looming peak of the nearby Niesen mountain. The upper station sits at an elevation of 2,336 meters (7,664 feet) above sea level. To reach that summit, the tracks proceed along severe and dizzying inclines, reaching a maximum gradient of 68%.
The cars can accommodate a maximum of 65 passengers and take approximately 30 minutes to complete the entire journey. Its possible to do some beautiful hiking between any of the two stations, either on the way up or the way down. Less adventurous sightseers can rest assured that the cable supporting the Niesenbahn funicular is engineered to carry over eight times the train's total weight load, and that the cars are outfitted with automatic brakes. So keep cool, and let's discover a new place!
Where to stay in switzerland?
On HomeSwissHome, https://www.facebook.com/switzerlandrentals/, you can find the rental that best meets your needs, whether it's for your vacation or your business trips, so don't hesitate!
If you need ideas for your destinations in switzerland or host tips to gain more money: check our blog
Tags: If you are currently travelling in Switzerland, please check out our other articles in collaboration with the HomeSwissHome website right here.
Tags: location valais, good deals, louer un chalet en suisse, homeswisshome, holiday rentals in Switzerland, where to go in Switzerland, what to do in Switzerland, what to visit in Switzerland, Shopping, Swiss