Lake Lucerne CRUISE
Whether you're short on time or simply wish to view the snowy Swiss Alps from the water,  a Lake Lucerne Cruise is your ticket.
Lake Lucerne is possibly THE most beautiful lake in Switzerland. The picturesque city of Lucerne is situated on the bank of this lake. The boat docks are just outside the Lucerne railway station. On a clear day the lake is surrounded by range of snow peaks. There are different cruises operating throughout the day, around the year. The cruises can be as short as 45 minutes to as long as half a day. Each turn in Lake Lucerne opens up new vistas of scenery.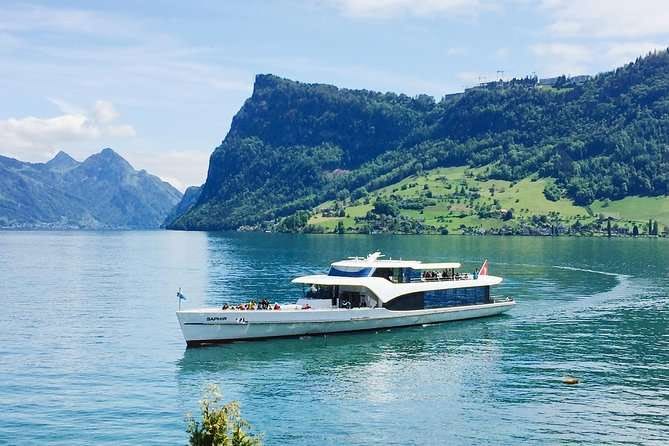 The cruise ships themselves are amazing, with multiple levels, open decks and restaurants on board. Larger vessels even provide internet connection. For the lovers of culture some cruises serve special delicacies including venison, some host shows of jazz bands. And for all the romantic couples in Lucerne, the candle light dinner cruise is a must.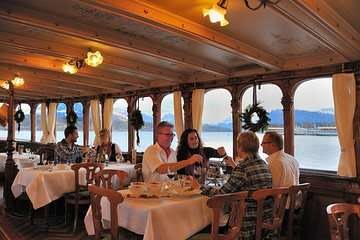 Learn about the history of Lucerne on a 2.5 hrs walking tour led by a local guide, then experience its love affair with cheese on an All you can eat Fondue or Raclette culinary experience on a three hrs. evening boat trip around Lake Lucerne. Good food and great views make for a fantastic combination on this jovial evening cruise that showcases the very best of Swiss cuisine. You'll see the most iconic landmarks of the most beautiful Swiss city from the water and from the best panorama viewing points in a lovely and relaxing Swiss experience. We will visit the Lion Monument and take a lift to Lucerne Castle to admire the most stunning alpine views!


More tips for a lake lucerne cruise:
locations de vacances en suisse, louer un bureau en suisse, louer une salle d'evenementielle en suisse, louer un chalet en suisse, vacances à la montagne en suisse, dormir dans un chalet suisse, que faire en suisse, où aller en suisse, randonnées en suisse, lieux atypiques en suisse sont des sujets traités sur notre plateforme homeswisshome.ch.