What are the steps to submit a property?
First you will have to login from homeswisshome.ch
Secondly you will have to follow 7 easy steps: (After Mandatory fields are filled in, you will be allowed to click on "CONTINUE" to get the access to the other pages. The SAVE button will need to be clicked after every edit from now on – from every page to automatically go to the next page)
Thirdly, we deeply recommend you to fill up properly your profile (Download your identity card to facilitate the verification of your person by our moderators. The validation of your ad will be published online more quickly.)
Step1:

Description

Step 2:

Price + Price calendar
The calendar will not be displayed correctly on resolution lower than 1200px (because of lack of space). Please do not use this feature on mobile devices.
In price details, you can set different price values. Prices can be per night or per hour. Read more in our FAQ: " how to set a hourly booking?"
Price per night should exist for every property (for users to be able to book the property accurately).
Users can set a custom price per night, if user books more than 7 days (meaning 8 or more) and less than 30 days.
Users can set a 2nd custom price per night, if user books more than 30 days.
Users can also set a custom price per night (different than the above) using the price calendar.
Price per weekend (Saturday and Sundays) in CHF (only numbers)
You can set an early bird discount
A security deposit can be chosen. It will be kept by HomeSwisshome and refunded to the tenants 1 day after the stay if no complain from the owner.
Check City Fee applies per night
Check Cleaning Fee applies per night
Minimum days of booking (only numbers)
Extra Price per guest per night in CHF and check Allow guests above capacity?
Allow only bookings starting with the check in on the specific day of the week OR Allow only bookings with the check in/check out on a specific day of the week.
Check to  Pay by the no of guests (all room prices will NOT be used anymore and billing will be done by guest no only)
You can add customized extra options
You an adjust prices directly on the calendar. To set custom price click the beginning date and end date (2 clicks) 
Step 3: Images (and video)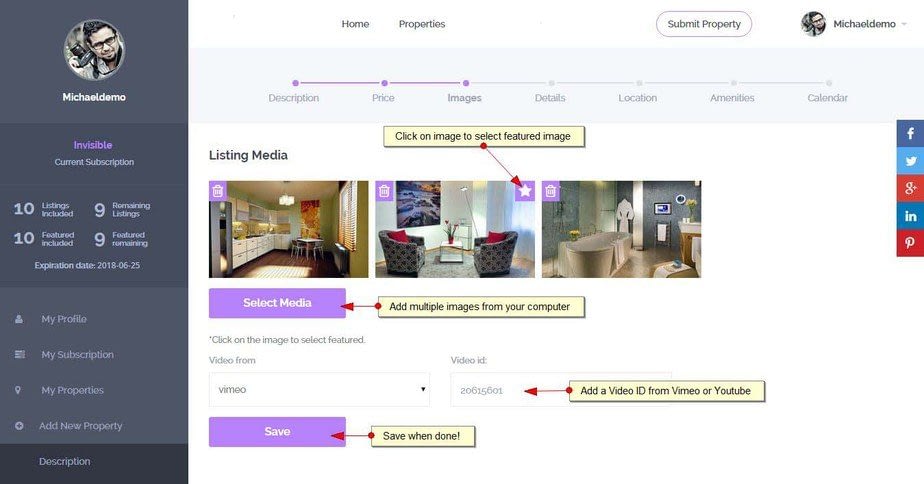 To add videos, we strongly recommend to contact us. Our professionals will produce for you a very attractive video of your property. You get a discount on the service as a member of HomeSwissHome.
Each user can add custom fields from Submit Form for each listing.
Write the address of your property -> Click on the button "Place pin with address" => the latitude and longitude will automatically be found ( you can as well wrote them manually if you want to)
Note: The property location is hidden until the booking is confirmed.
Step 6: Amenities
Step 7: Calendar