Fondue in an igloo (Leysin)
Fondue in an igloo (Leysin) au Village des Neiges (VD)
Awesome experience to do: eating a swiss fondue in an igloo (leysin). In winter, the Snow Village in the centre of Leysin welcomes those who are not cold in their stomachs inside its giant igloos with wooded furniture and benches wrapped in animal skins. The menu (CHF 46.-) opens on a mountain board, followed by a half/half fondue and ended smoothly on a duo of meringues double cream of gruyère. That's what's warming up! And for those who are put off by the cold, head to the adjacent yurt where a wider variety of dishes can be enjoyed… by the fire!
The best swiss fondue recipe
Swiss fondue presentation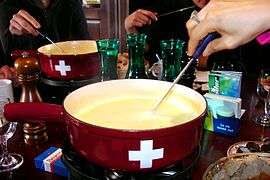 At the table, the fondue comes in a pot (a kind of enamelled, cast iron or terracotta pan), in which each diner dips his piece of bread, using a particular fork, with three teeth (there are also two teeth, but these are reserved for the fondue Burgundy or Chinese). The pot rests on a metal support (traditionally wrought iron), at the base of which is the source of heat (heat or candles, ideal source of heat for the Fribourg fondue, vacherin, which is eaten lukewarm) that keeps the fondue at the desired temperature throughout the meal.
locations de vacances en suisse, louer un bureau en suisse, louer une salle d'evenementielle en suisse, louer un chalet en suisse, vacances à la montagne en suisse, dormir dans un chalet suisse, que faire en suisse, où aller en suisse, randonnées en suisse, lieux atypiques en suisse sont des sujets traités sur notre plateforme homeswisshome.ch.