Cow trekking activity
Summer and winter, in Switzerland, farms offer cow trekking activity tours…. Unique in the world, the concept is part of the sustainable tourism movement. Discover in 3 or 4 hours the peculiarities of the region. If you are looking for a place to stay around, check our listings of rentals in switzerland, recommanded by HomeSwissHome.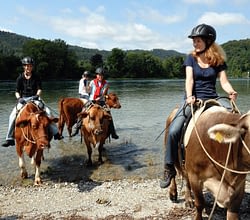 We knew the donkey, horse or yak rides, but the organic farm of Bolderhof, in Switzerland, offers an original concept. Cow-trekking activity, that is to say the discovery of the Hemishofen region. 
To cope with the crisis facing most farms, farmers must now diversify their activities to meet their needs. In the plains of the Rhine, in the canton of Schaffhausen, Doris and Heinz Morgenegg have chosen to offer a rather unusual activity to tourists. The idea is to make travellers discover their region thanks to their dairy cow herd. They got 25 heads and as many well-tempered characters, such as specifies the couple.
However, no danger! The Morgenegg have thought of everything to ensure that the walks take place in the best conditions. The cattle have been carefully trained by their owners. Once in the saddle, and equipped with a riding bomb, visitors roam the countryside for a ride. Tours can lasts from 1:30 to 4 hours, depending on the package chosen.
Picnics, based on farm produce, are included in the services, and it is possible, on request, to participate in animal care and milking.
Follow this link to book: https://www.simoneetkurt.ch/cow-trekking/